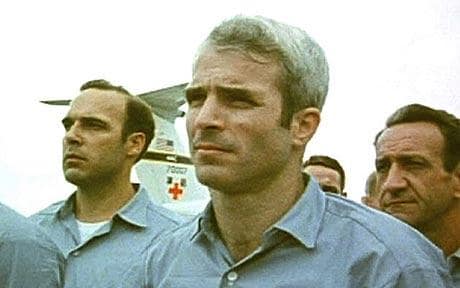 John McCain during his military years
John McCain who is a prominent American politician has been diagnosed with brain cancer, his office has confirmed. As per report published in BBC which quoted his office said, "John has been detected with cancer of the brain and is looking for treatment options".
No finer, tougher American than Senator John McCain.

A great man now fighting his biggest battle.

We should all hope he wins it.

pic.twitter.com/19HwPPya5I

— Piers Morgan (@piersmorgan) July 20, 2017
John is one of the Vietnam veteran who has served for 5 years as a prisoner of war.
John McCain is a gd American hero who I agree with almost 0% of the time.

But he knows the meaning of the words "public servant".

❤️

pic.twitter.com/IZPa88CVdS

— Holly O'Reilly (@AynRandPaulRyan) July 20, 2017
As per the reports his doctors are satisfied with pace of his recovery and said as of now his condition is curable and he responding to his treatment.
— ABC News (@ABC) July 20, 2017
The six-term senator and 2008 Republican presidential candidate was captured during the Vietnam war and was kept for 5 years including 2 years in solitary confinement as a prisoner of war.
During the presidential election campaign Donald Trump has played down his achievemnets and had said that John is no war hero adding "I like people who weren't captured".
This comment has made American public horrified.
He was captured and beaten and tortured to the level where he could not raise his hands above his head even now.
Barack Obama has wished him luck through a tweet and said that Mc Cain is brave heart and even cancer can not dare to beat him.
John McCain is an American hero & one of the bravest fighters I've ever known. Cancer doesn't know what it's up against. Give it hell, John.

— Barack Obama (@BarackObama) July 20, 2017
Sundar Pichai, Indian born CEO of tech giant google has also praised the brave heart and have showed confidence that John, like other battles will win cancer also.
Your life story is already so inspirational, lets make it even more so. Wishing you the speediest recovery

@SenJohnMcCain

— Sundar Pichai (@sundarpichai) July 20, 2017
Meghan McCain, daughter of the war veteran tweeted and expressed her views. She said in time of such pain it's only his father who can remain calm and peaceful.
— Meghan McCain (@MeghanMcCain) July 20, 2017