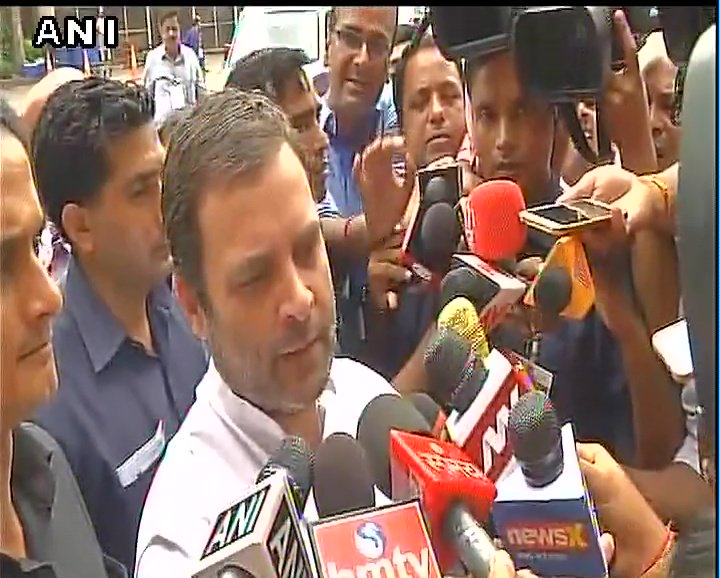 Image- ANI
Nitish has again taken oath as the Chief Minister of Bihar after joining hands with BJP with whom he broke all the alliance while accusing it of being communal.
This has not only disturbed the political intellectuals but also their allies and Politicians have tweeted their grievances and accused Nitish of being an opportunist and BJP of doing vendetta politics.
Here are some tweets for readers to know what all is happening around Bihar politics.
I entered in govt with a clean slate with a keen desire of writing a positive story for people of Bihar, only to find an opportunist rival!

— Tejashwi Yadav (@yadavtejashwi) July 27, 2017
बिहार में रिकॉर्ड तोड़ बहुमत BJP के विरुद्ध मिला था। अब उसी BJP के समर्थन से नीतीश सरकार चलाकर नैतिकता का रिकॉर्ड स्थापित करेंगे।

— Lalu Prasad Yadav (@laluprasadrjd) July 26, 2017
Liberals should fight for pluralism. Instead they back secular malpractice; where the word is only a poll slogan to be abandoned at will

— barkha dutt (@BDUTT) July 26, 2017
नैतिकता और भ्रष्टाचार की दुहाई देने वाले नीतीश को चुनाव में आना चाहिए।पता लग जायेगा जनता भ्रष्टाचार/नैतिकता की लड़ाई में कितना उनके साथ है?

— Lalu Prasad Yadav (@laluprasadrjd) July 26, 2017
The "secular"" parivar is in dire need of reinvention. For too long its been a cloak for too many evils.

— Sagarika Ghose (@sagarikaghose) July 26, 2017
All JDU MLAs caged in CM house since evening. Why so mch insecurity?Just cuz MLAs realise tht they are elected against BJP's divisive agenda

— Lalu Prasad Yadav (@laluprasadrjd) July 26, 2017
Humein maloom tha ki 3 maheene se ye planning chal rahi hai : Rahul Gandhi. And I used those three months to play video games

— Rana Ayyub (@RanaAyyub) July 27, 2017
BJP wants to paint a lie over India so that they can return it to an age of kings and no questions, where people were humiliated by power

— Office of RG (@OfficeOfRG) July 21, 2017
ना ना करते, प्यार तुम्हीं से कर बैठे
करना था इंकार मगर इक़रार तुम्हीं से कर बैठे
Bihar Today

— Akhilesh Yadav (@yadavakhilesh) July 27, 2017
This is now the3rd time that BJP has formed a state government after losing an election. Goa, Manipur&Bihar show our democracy in poor light

— Shashi Tharoor (@ShashiTharoor) July 27, 2017
Past baggage, though unjustified, didn't perturb me when I was entrusted to carry the expectations of people's mandate, in the role of DyCM!

— Tejashwi Yadav (@yadavtejashwi) July 27, 2017
Only mistake Lalu Yadav ji made is he did not bargain with

#NitishKumar

. Lalu ji should have made his person the

#Bihar

assembly speaker.

— Tehseen Poonawalla (@tehseenp) July 26, 2017
कांग्रेस मुक्त भारत का एक पड़ाव बिहार भी था ...जिसे हमने अभी अभी पार किया है ..बिहार को NDA सरकार की बधाई

— Giriraj Singh (@girirajsinghbjp) July 27, 2017
बिहार के उपमुख्यमंत्री के रूप में शपथ लेने के लिए श्री सुशील मोदी जी को बधाई. प्रदेश को नई ऊँचाई पर ले जाने में उनका सहयोग महत्वपूर्ण होगा.

— Rajnath Singh (@rajnathsingh) July 27, 2017
Vicious greed for power of opportunism will spell it's own doom. People are not fools that they digest their penchant for wicked power grab

— Tejashwi Yadav (@yadavtejashwi) July 27, 2017
Nitish Kumar should have advised the Governor to dissolve the Assembly. Nitish says Lalu has greed for money; he has shown greed for power.

— Ramachandra Guha (@Ram_Guha) July 27, 2017
I've been arguing for a presidential system of directly-elected leaders at all levels. That way the winner rules.This way "chatur" pols rule

https://t.co/B9wXpbbspc

— Shashi Tharoor (@ShashiTharoor) July 27, 2017
जो कुछ हो रहा है लोकतंत्र के लिए शुभ संकेत नहीं, देश की आम जनता को आगे आकर लोकतंत्र को कमज़ोर होने से बचाना होगा: मायावती #NitishKumar pic.twitter.com/snGRHP4QEZ

— Bahujan Samaj Party (@BspUp2017) July 27, 2017