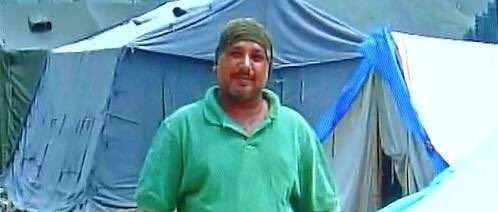 Salim Sheikh
God always sends someone to save humanity and no body knows how he selects one but this time he selected Salim Sheikh to save the lives of 50 Amarnath devotees.
Salim Sheikh was the driver completely in control of the vehicle which was returning completing the yatra when they were attacked by three terrorists. He said to media that terrorists came on motorcycle and started firing indiscriminately. He suffered two bullets one in his arm and other in the shoulder.
However he kept his cool and started driving the vehicle while lying on one side of the seat and drove the vehicle to approximately 2 kms taking all the passengers away from the firing zone. Though he was sad that he could save lives of 9 people who died after getting hit by the bullet he was thankful to God for he who helped him in saving 50 innocent lives.
His family was completely shocked after hearing the news however after knowing about the bravery act of her son, his mother was satisfied and said he has always done good job for his family and society. They were looking calm yet proud that Salim was his son.
His wife also expressed satisfaction and thanked God that her husband was safe and has done a great job in such a dangerous situation.
Yesterday when a Gujarat bound bus was returning after completing the pilgrimage terrorist had attacked the bus and killed 9 while injuring 19 people. IB has already given specific inputs about the attack and even then it could not be stopped. Opposition parties has blamed it on the Government and said it shows lack of preparedness on the part of security forces
Mr. Vijay Rupani has declared Rs 10 Lakh for the family members of those who were killed in the terrorist act. He promised best possible medical facilities for all the injured. All the parties have condemned the attack and CM Mehbooba Mufti said attack on Amaranth yatris is blot on Kashmir and all Muslims.
Prime Minister Narendra applauded the act of bravery shown by Salim Sheikh.
— Narendra Modi (@MODIfyingBHARAT) July 11, 2017