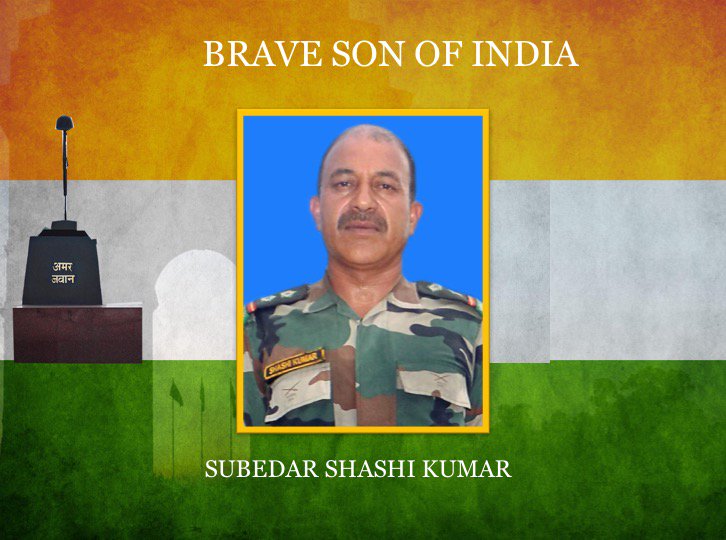 Image courtesy - Indian Army (ADG - PI)
The hero is born from the blood of brave heart and we salute all the martyrs who have given birth to such heroes. Akshay Kumar, son of Late Shashi Kumar is one of those boys who have patriotism filled in their veins from their birth.
Hamirpur (HP): Family of Subedar Shashi Kumar mourns his demise; He lost his life in ceasefire violation in J&K's Rajouri

pic.twitter.com/YW5HNHsNNy

— ANI (@ANI_news) July 20, 2017
Akshay who was talking to media during his father's funeral replied with confidence and said he wishes to join the forces and take revenge for his father's death from the enemy.
I want to join the Army, want to take revenge for my father's death: Akshay Kumar, Son of Subedar Shashi Kumar

pic.twitter.com/cmQZaiDIvW

— ANI (@ANI_news) July 20, 2017
One of the twitter user invoked Gurmehar Kaur and asked her to teach the boy how to take benefits from the martyrdom of his father.
Gurmehar kaur who last year during one of the procession in JNU has tweeted that "It's not Pakistan but war has killed her father".
The bhakts r attacking GurMehar Kaur 4 her placard 'Pak did not kill my father, war killed him' compltly out of contxt, dis is the reality!

pic.twitter.com/xjrpFkO0pZ

— Mohammed Hasan Ahmed (@Hamgstark) February 27, 2017
This has annoyed many right wing supporters and she allegedly received threats on her life. She has been on the receiving end of the people with extreme patriotic views. Her supporters have stood along with her and said her statement was taken out of context and media has not show the complete placards.