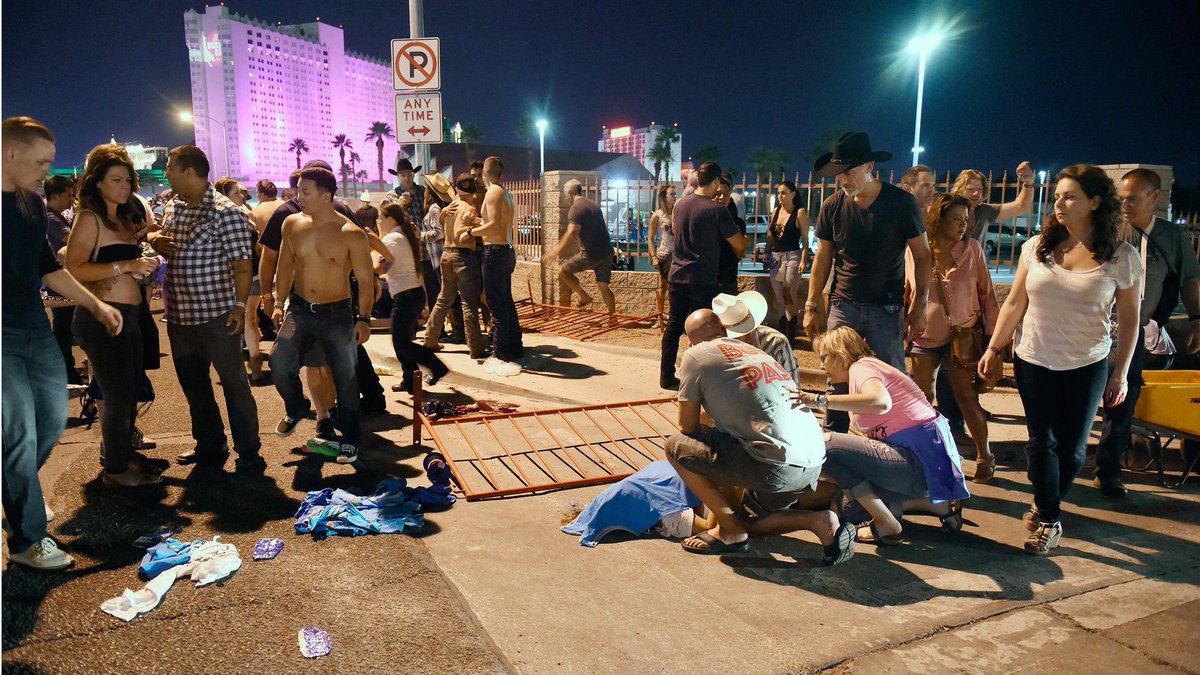 Twitter Image
Once again a suspected terror attack has taken place in the commercial city of Las Vegas, America in which more than 20 people have reportedly lost their lives including Police personnel.
— Stan (@StanM3) October 2, 2017
A twitter user who claimed to be living near the site where the shooting took place share a video in which gun shots are clearly heard and a panic like situation looks on the street.
Active shooter Las Vegas strip I'm ok locked in my room lights off windows closed. Shooter is directly across the street. Shots heard on vid

pic.twitter.com/Z4mz3E3bmE

— Bryan Heifner (@HBryanBHHS) October 2, 2017
Police has confirmed that more than 20 people have lost their lives in the attack and almost 100 have been wounded and victim toll may rise further.
It is also been suspected that the attacker is shot dead in retaliation by the security forces.
— Bloomberg (@business) October 2, 2017
Police has asked for people and general public to provide any clue, video footage or any details of the vehicle which has been registered in the Las Vegas. The number of vehicles being searched are said to be two.
Police ask for the public's help in searching for 2 vehicles registered to Las Vegas shooting suspect. Details:

https://t.co/zhSUdUBqqK

— CNN International (@cnni) October 2, 2017
People were seen scrambling for cover while an indiscriminate shot was being fired in the music festival event.
Police is searching for a women who was supposedly accompanying the attacker is said to be of Asian origin, Mari Lou Danley, female, 4'11''.
— ABC News (@ABC) October 2, 2017
— Daily Mirror (@DailyMirror) October 2, 2017
— Daily Mirror (@DailyMirror) October 2, 2017
Some twitter users have claimed and posted that there could be more than 20 shooters roaming on the street at will and may attack again.
Please, if you are in Las Vegas, take cover there are multiple shooters on the loose, twenty people are dead. Find cover and hide.

— sia (@Sia) October 2, 2017